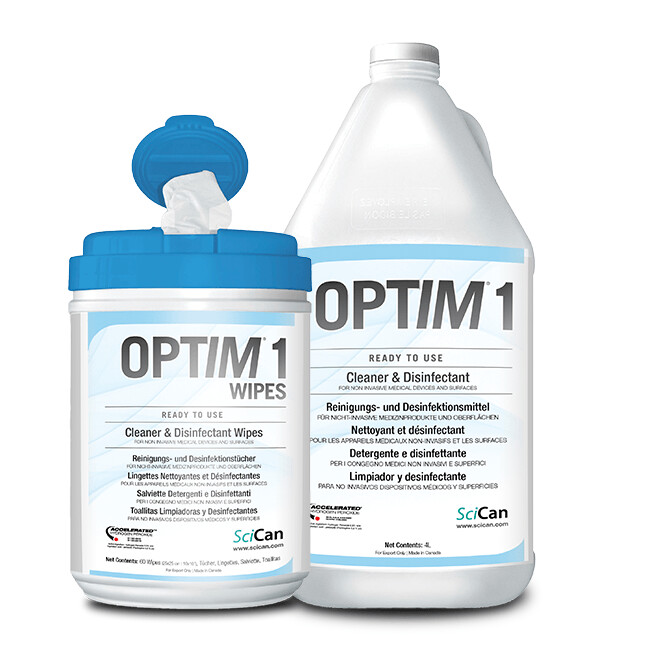 OPTIM 1 4L refills (4X4L/Case)
SKU OPTEU1-4X4
Product Details
OPTIM
®

1

Fast and Gentle
With OPTIM 1 there is no need to compromise between efficacy and being protected. With a fast broad-spectrum contact time it is one of the fastest and most effective cleaner & disinfectants. It is also safe and gentle for you and surfaces. OPTIM 1 gives you confidence that you are compliant and protecting your patients, staff and the environment; the perfect balance.

OPTIM has demonstrated effectiveness against viruses similar to Coronavirus Disease 2019 (COVID-19) on hard non-porous surfaces and non-invasive medical devices. This product can therefore be used against COVID-19 when used in accordance with the directions for use against Poliovirus on hard, non-porous surfaces, and non-invasive medical devices.
---
Fast Broad-Spectrum Disinfectant
Surfaces must remain wet for the entire contact time to achieve disinfection.
Adeno, Polio, Murine Noro in only 30 seconds according to EN 14476
Tuberculocidal & Fungicidal in 1 minute
Bactericidal according to EN 13727 & Virucidal according to EN 14476 in 30 seconds
Full virucide in 2 minutes according to RKI/DVV standard (Polio, Adeno, Murine Noro, SV40)
Effective in 1 minute according to EN 16615
Excellent wettability – stays wet long enough for contact times to elapse[1]
Demonstrated virucidal efficacy extends to new and emerging pathogens.
30-second virucidal contact time applies to Novel Coronavirus (COVID-19), Severe Acute Respiratory Syndrome (SARS CoV) and Middle East respiratory syndrome (MERS CoV).
Effective One-Step Cleaner & Disinfectant
An effective 1 step cleaner disinfectant removes the organic debris while it disinfects[2].
Compatible
Compatible with a wide range of hard, non-porous materials and surfaces[3].
Safe and Gentle
Free of artificial scents
Non-Toxic
Non-irritating to skin, eyes and respiratory system
No GHS hazard pictograms, signal words or statements
Leaves no active residue; doesn't contribute to antimicrobial resistance
Environmentally Friendly
The active ingredient Hydrogen Peroxide breaks down into water and oxygen leaving no active residues which reduces the environmental impact.
---
OPTIM 1: One-Step Cleaner & Disinfectant. One-Minute TB Contact Time.
The Perfect Balance - No compromise between efficacy and low toxicity.

With a short broad-spectrum contact time, OPTIM 1 is one of the fastest and most effective cleaner & disinfectants. OPTIM 1 provides the confidence that you are compliant and mindful of patients, staff, equipment and the environment without compromise; the perfect balance. OPTIM 1 - One-step Surface Cleaner and Disinfectant. One Minute (TB) Contact Time. now available in EU.
---
Dental Advisor and Dr. John Molinari: Environmental Surface Cleaning Investigation Using SciCan's OPTIM 1
Are your surfaces really clean?

Dr John Molinari tests alcohol and QUAT surface cleaners, as well as, OPT IM 1: One-Step Cleaner & Intermediate Disinfectant.

OPT IM 1 was the only disinfectant wipe to successfully clean and remove proteins with a single application.
---
Contact Time
OPTIM 1

Disinfecting Efficacy
EN 14348 - Tuberculocidal
Mycobacteria
Terrae
1
EN 14476 - Virucidal
Non-enveloped Viruses
Adeno
30 seconds
Polio
MNV
EN 16615 - Wipe Efficacy Test***
Bacteria
Staphylococcus aureus,
Enterococcus hirae,
Psuedomonas aeruginosa
1
Yeast
Candida albicans
1
EN 13727 - Bactericidal
Bacteria
Staphylococcus aureus,
Enterococcus hirae,
Psuedomonas aeruginosa
30 seconds
EN 13624 - Yeasticidal & Fungicidal
Yeast
Candida albicans
1
Fungi
Aspergillus brasiliensis
1
Cleaning Efficacy
One-Step Cleaner
Safety
GHS Required Hazard Pictograms
None Required
Non-Irritating to the Eyes
Yes
Non-Irritating to the Skin
Yes
* Contact time in minutes unless otherwise specified.
*** EN 16615 is a required EU standard to test the efficacy of the wiping mechanism.
Order Information
OPTIM 1
Ready-to-use Pre-saturated Wipes
OPTEU1-12W
RTU Wipes 15 x 18 cm (12 x 160 sheets/case)
OPTEU1-W10x10
RTU Wipes 25 x 25 cm (12 x 60 sheets/case) - Backordered until August
Liquid
OPTEU1-4x4
1 case of 4 x 4 Litres - Backordered
Additional Items
FND30
Pump for 4 Litre bottle
---
Find answers to frequently asked questions about OPTIM 1 here
Save this product for later
---